Engineering Design
What makes us the premier design firm in the MENA region and Sub-Saharan Africa?
The answer comes in one all-encompassing word: Versatility.
Versatility is what allows us to meet the requirements of diverse projects and respond to the needs of different individuals. Versatility is what allows us to innovate and adapt wherever we are in the world. Versatility is also how we always manage to reconcile cost-effectiveness with great quality.
Our extensive range of engineering and design services plays a great role in enhancing this versatility as well:
ECG's engineering services cover MEP, infrastructure, transportation and process engineering, in conjunction with a range of supplementary engineering services. These include civil and environmental engineering, together with fire protection, lighting, communications, security, and building management systems.
Our design services, on the other hand, cover Front-End Engineering & Design (FEED), Conceptual Design, Preliminary Design, Basis of Design Reports (BODRs), Schematic Design, Design Development, Detailed Design, Design Optimization, Construction Documents, Value Engineering and Computer Simulations.
see projects related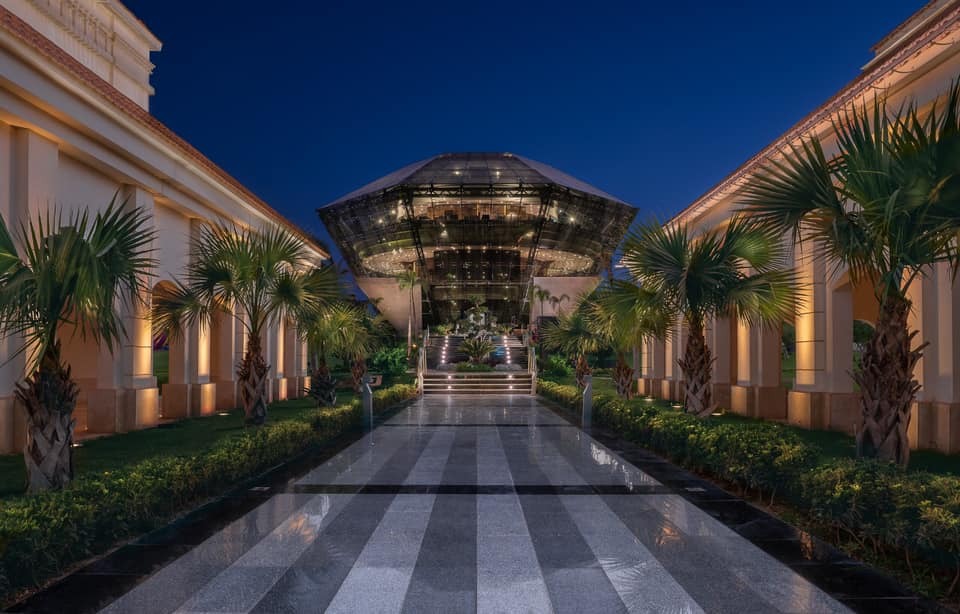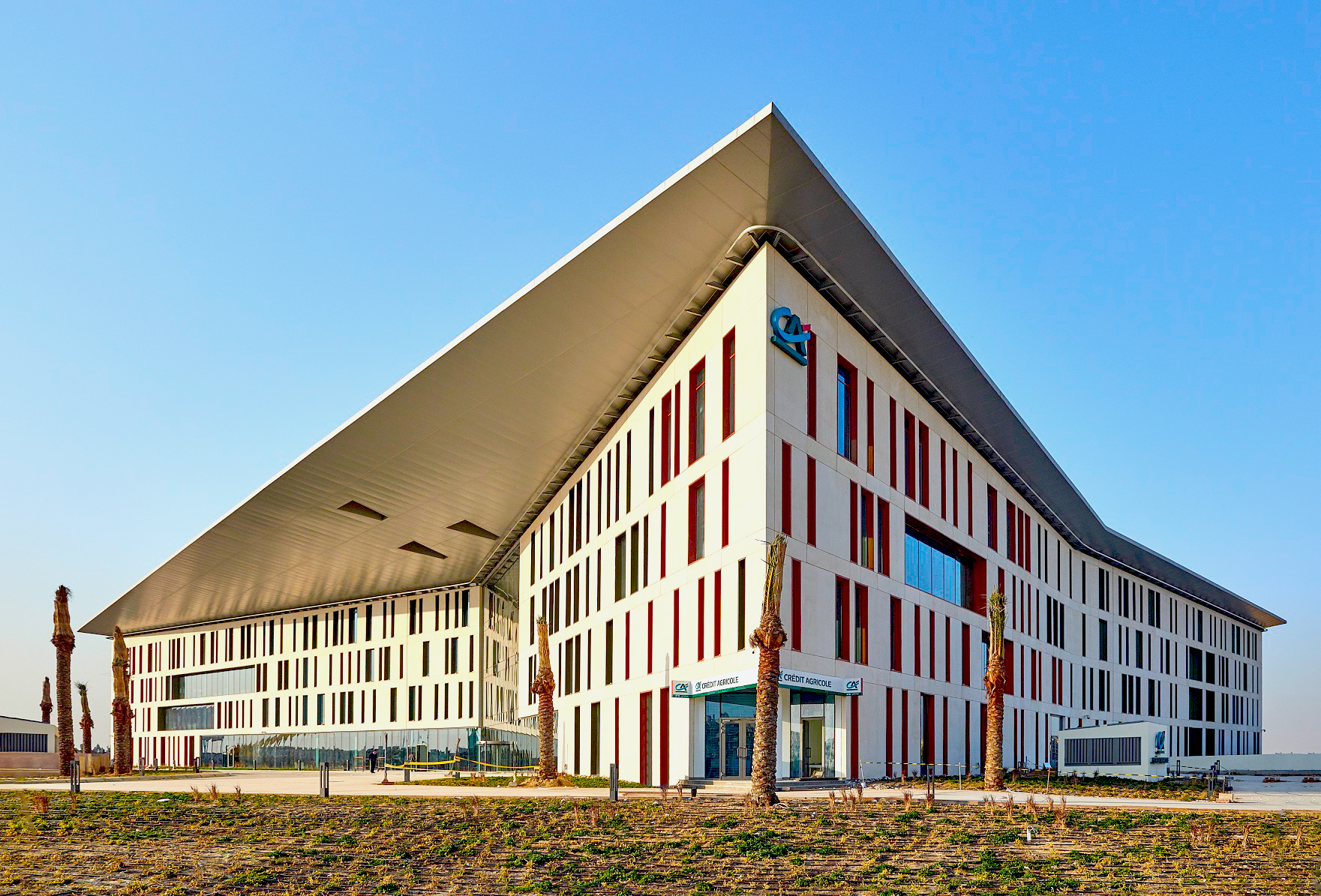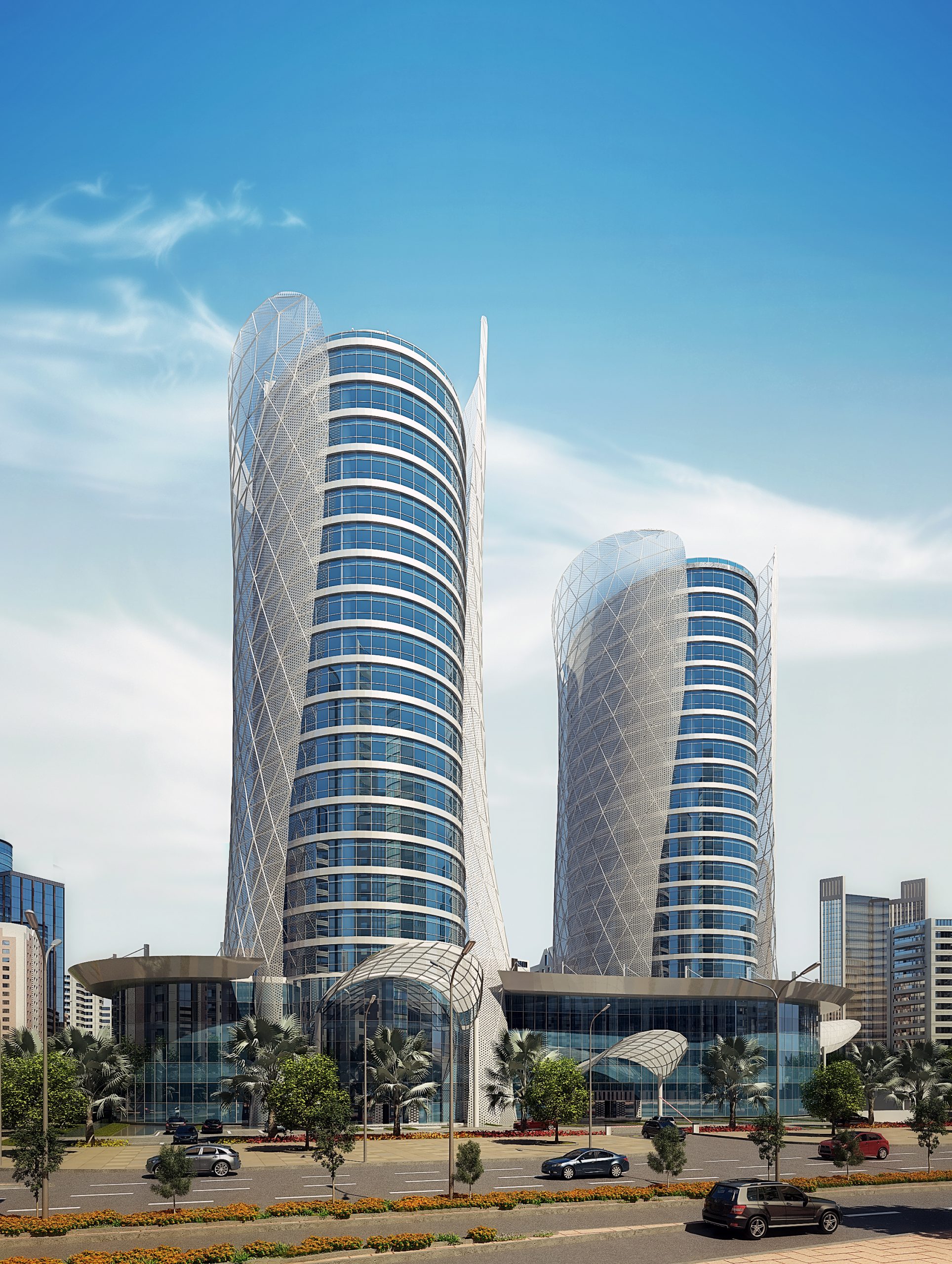 Architectural Design
We will admit we are perfectionists. When it comes to architectural design, we want to be innovative, functional, beautiful, environmentally friendly, and above all we want to leave a legacy for the generations to come. We also want to bring all that to every possible structure. Whether it be a bridge or a highway, an exterior or an interior, we want it to shine.
Although this perfectionism keeps us up all night, it also pays off. We are very proud of our contributions to some of the most prestigious projects in the region: From landmark high-rises and mega residential compounds, to business parks and LEED compliant buildings, and from acoustics and vertical transportation to conveyor systems and much more.
see projects related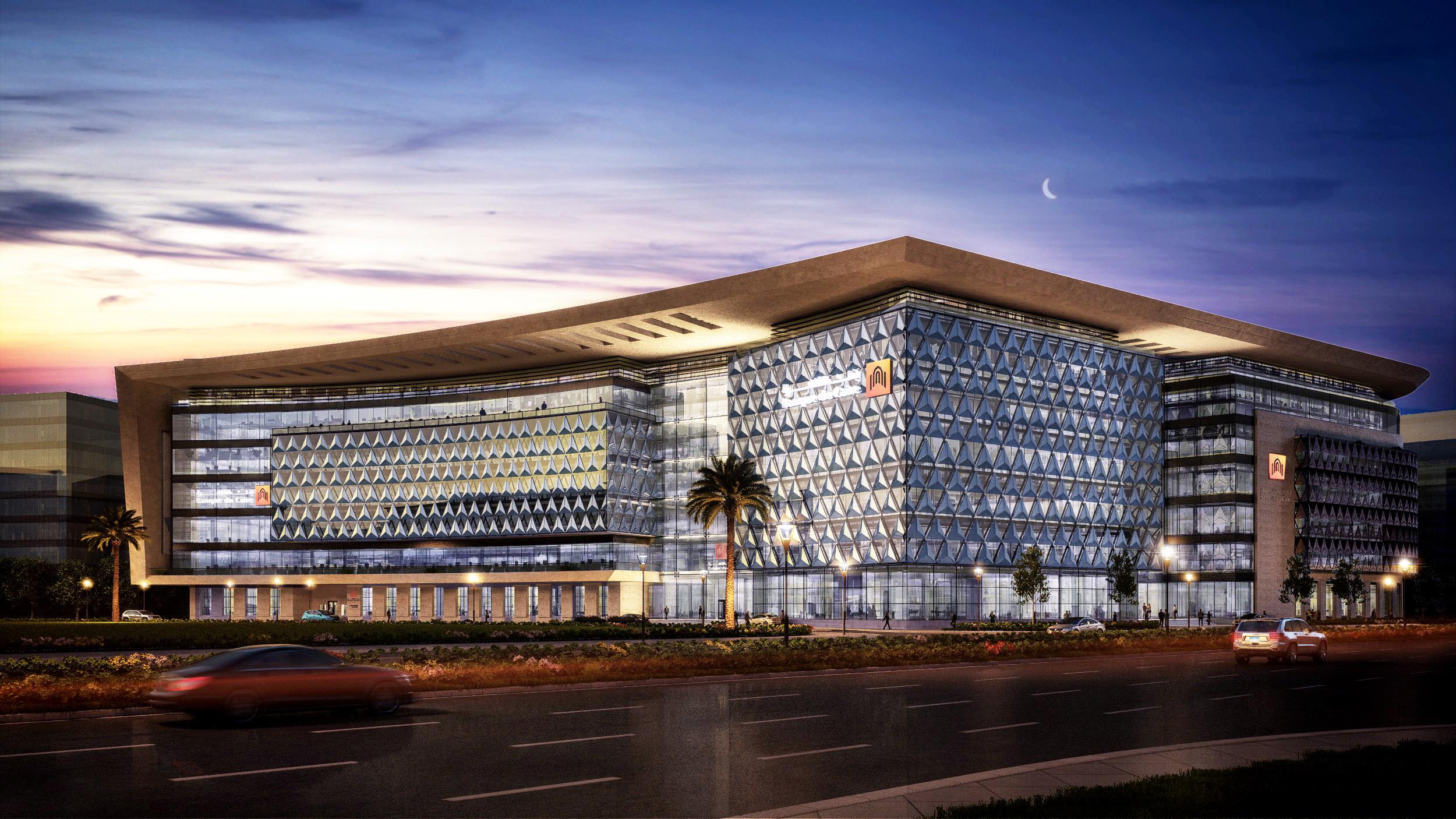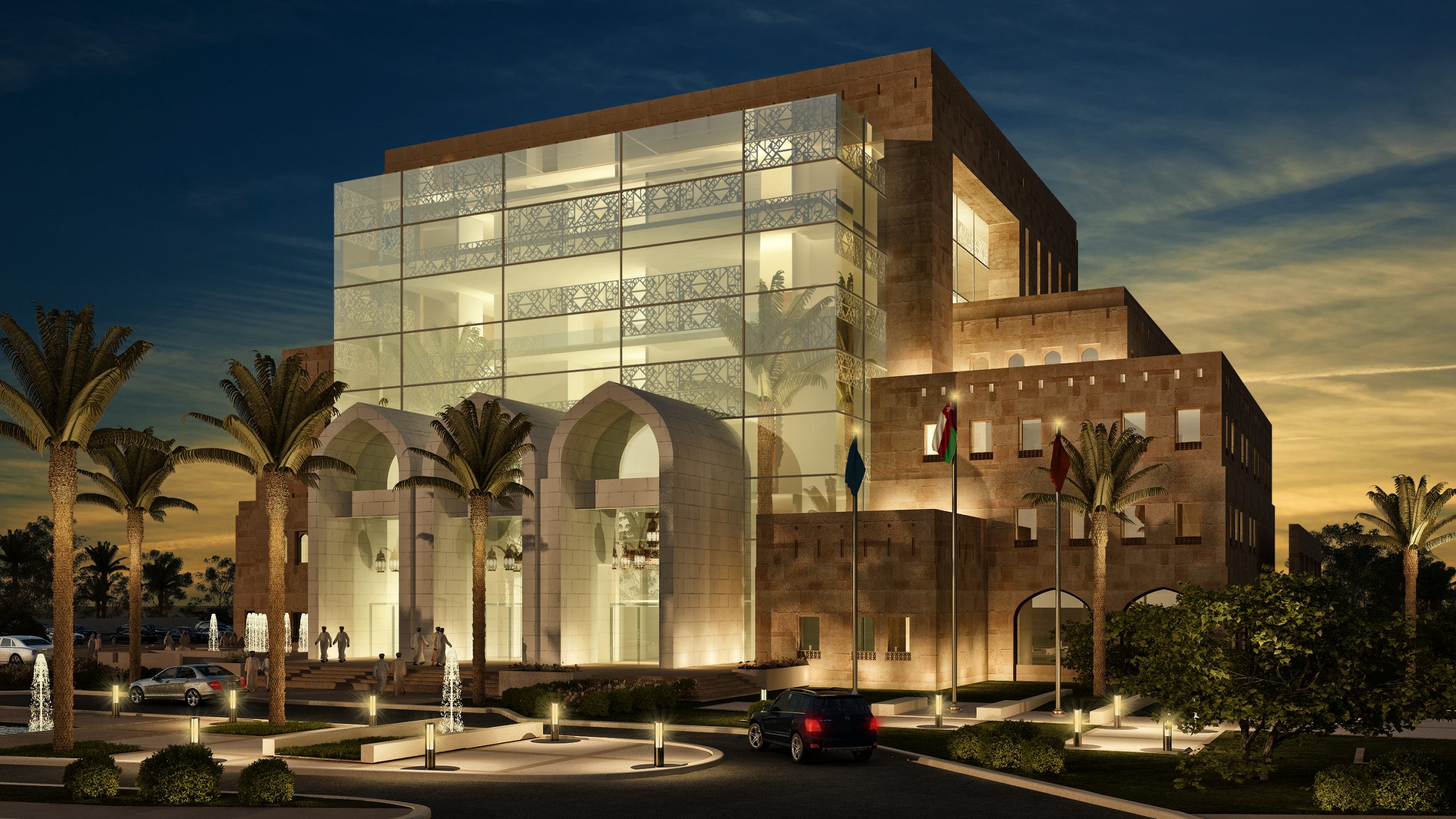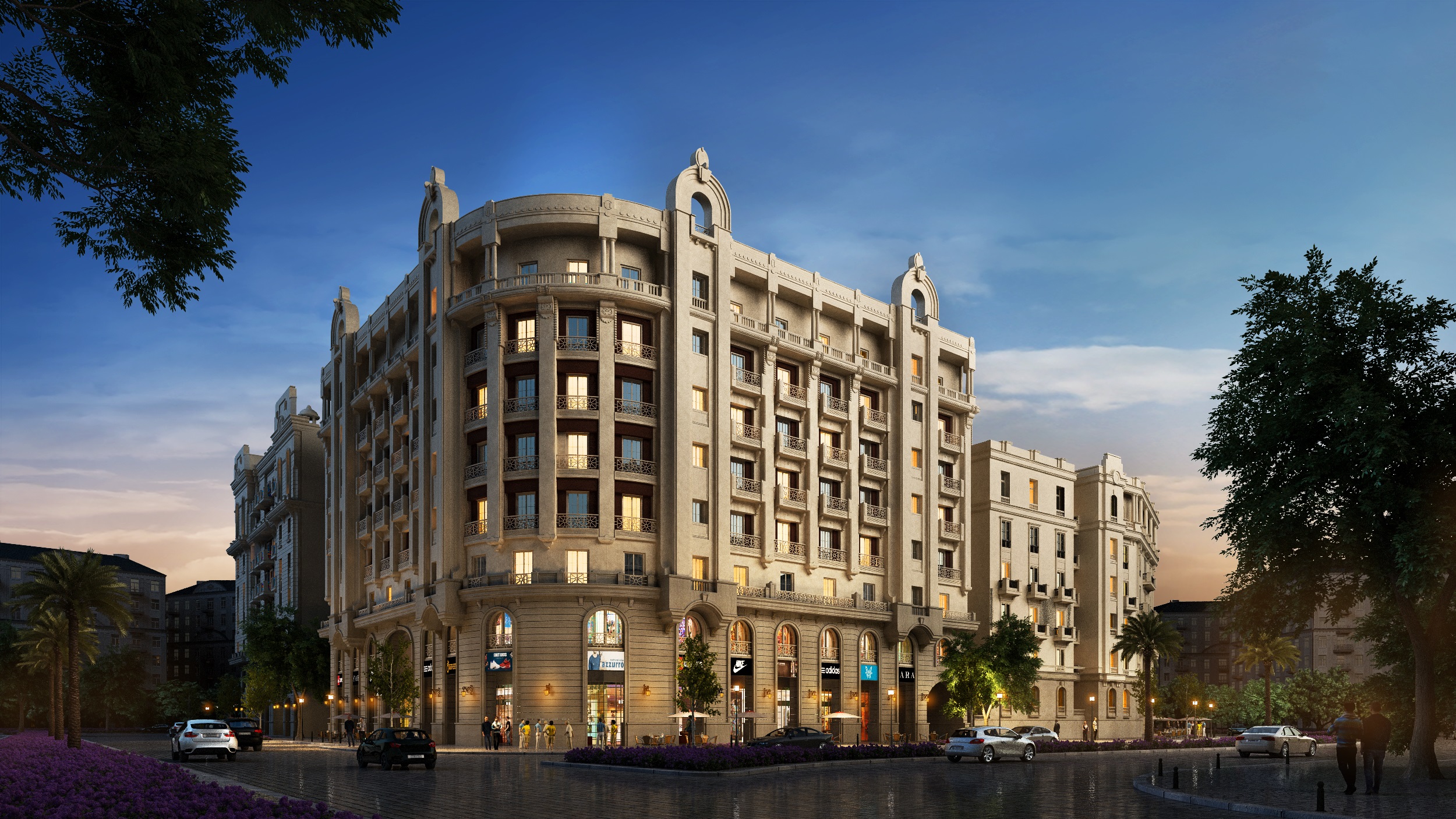 NEWGIZA Westridge Residential Units
Westridge is a neighborhood of NEWGIZA, the upscale residential compound located on Cairo-Alexandria Desert Road (Kilometer 22), only 6 km away from the Grand Egyptian Museum.
This project covers the residential units included within the Westridge Neighborhood whose design features a high level of elegance, seclusion, and connection to nature. The neighborhood stretches over a total plot area of 531,987 m2. It contains a variety of residential units with a total built-up area of 211,516 m2:
RB09 Apartment Buildings (each with a built-up area of 3,225 m2)
RB10 Apartment Buildings with lakeside views (each with a built-up area of 1,543 m2)
Rock A RB11 Apartment Buildings (with a built-up area of 1,592 m2)
RT08 Two-Unit Townhouse Blocks (with a total built-up area of 610 m2)
RT08 Four-Unit Townhouse Blocks (with a total built-up area of 1,220 m2)
RT09 Two-Unit Townhouse Blocks (with a total built-up area of 680 m2)
RT09 Four-Unit Townhouse Blocks (with a total built-up area of 1,360 m2)
RT10 Two-Unit Townhouse Blocks (each with a built-up area of 750 m2)
RT10 Four-Unit Townhouse Blocks (each with a built-up area of 1,500 m2)
RT11 Lofts (each with a built-up area of 355 m2)
see projects related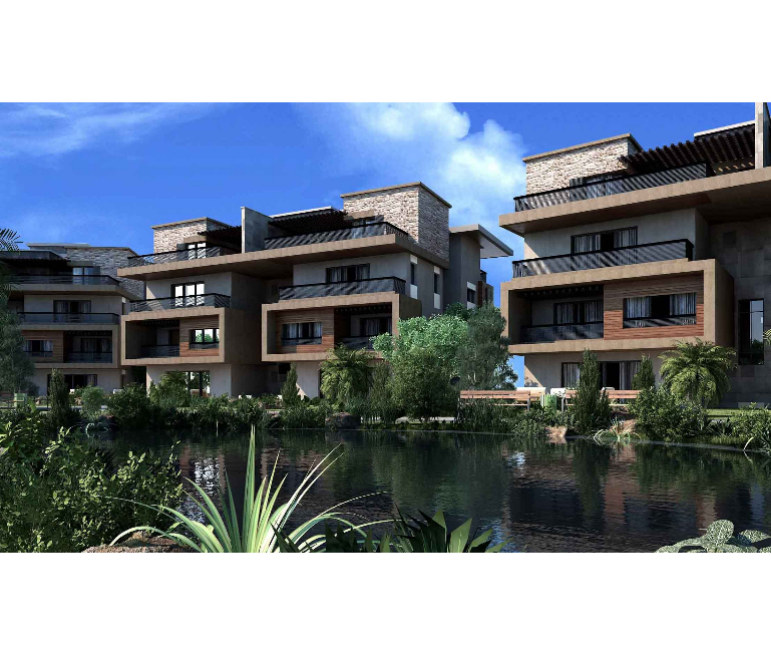 International Hungarian University
The University campus stretches over a total area of approximately 126,000 m2 in the New Administrative Capital of Egypt.
With a total built-up area of about 109,783 m2 and a total footprint area of approximately 20,633 m2, the campus is set to include the following buildings:
• Administration Building: with a built-up area of 8,350 m2
• Faculty of Architecture: with a built-up area of 7,154 m2
• Faculty of Information Technology: with a built-up area of 6,769 m2
• Faculty of Pharmacy: with a built-up area of 9,380 m2
• Faculty of Political Science: with a built-up area of 9,562 m2
• Faculty of Arts: with a built-up area of 9,562m2
• Faculty of Business Administration: with a built-up area of 9,898 m2
• Faculty of Mass Communications: with a built-up area of 7,168 m2
• Faculty of Engineering: with a built-up area of 15,526 m2
• A library: with a built-up area of 3,300 m2​​​​​​​
• Conference halls and the auditorium: with a built-up area of 13,560 m2​​​​​​​
• Dorms: with a built-up area of 9,297 m2​​​​​​​
• Commercial facilities: with a built-up area of 1,350 m2​​​​​​​​​​​​​​
• Sports area: with a built-up area of 900 m2​​​​​​​
• A clock tower: with a built-up area of 800 m2​​​​​​​

see projects related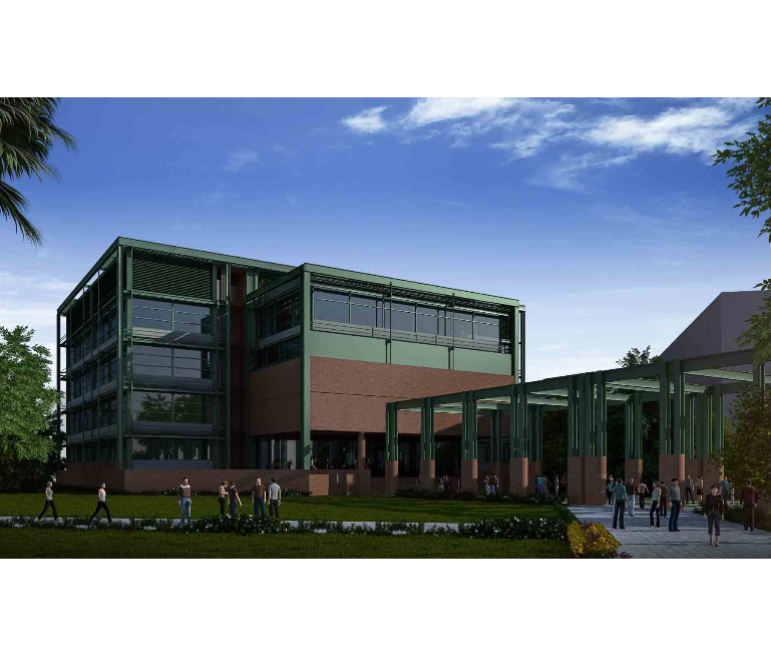 Warehouse Park, KAEC
Spread over a total land area of approximately 30,433 m2, the Warehouse Park is located at Phase 1B of the Industrial Valley in King Abdullah Economic City, Saudi Arabia.
Emaar, The Economic City (EEC) intends to develop 12 fully serviced shell warehouse buildings with a total builtup area of 12,540 m2, with a view to creating a landmark of warehouse buildings. Each unit has a ground floor and mezzanine, with a total built-up area of 1,045 m2.
The warehouse units are intended for commercial activities relating to logistics, storage & distribution, light manufacturing, as well as assembly, and will be leased by EEC to individual tenants.
With a modular warehouse building design, the warehouse units will allow for flexible combinations in
terms of size and layout to serve the requirements of tenants with respect to the main functions of each
commercial activity
see projects related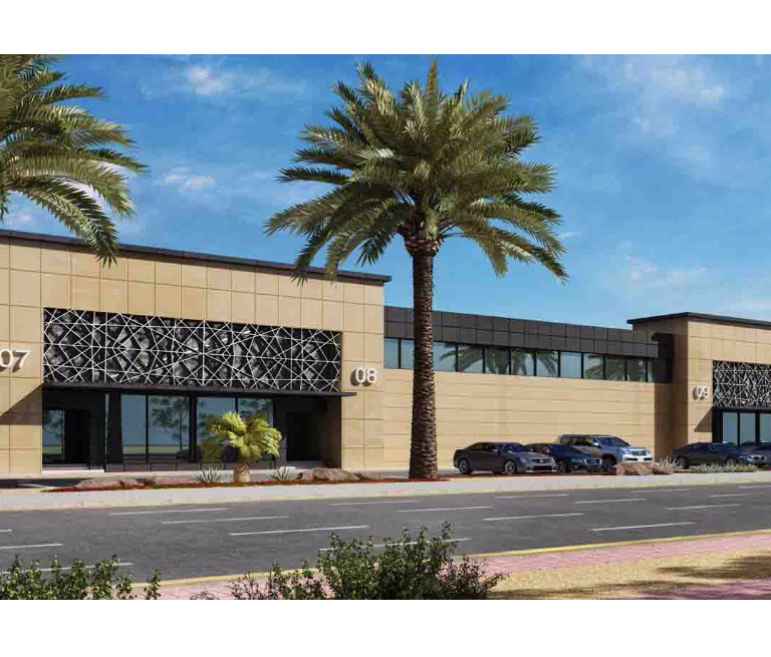 Al-Murooj Communities
Within King Abdullah Economic City (KAEC) lies the new communities of Al Murooj over an area of approximately 525 hectares.
The development comprises fifteen residential communities, a sports complex and a town center. Among these communities:
Beach Community 1 (BC1): an upscale beach residential community that includes 108 Villas, extending over an area of approximately 32 hectares. BC1 is connected to other communities of AlMurooj through a 350-meter long pier stretching across the sea with recessed pools built along the pathway.
Beach Community 2 (BC2): an upscale beach residential community that includes 392 Villa plots, extending over an area of approximately 68 hectares.
Beach Community 3 (BC3): an upscale beach residential community that includes 220 Villa plots, extending over an area of approximately 280,381 m2 .
Golf Community 1C (GC1c): a residential golf resort community that includes 108 villas, extending over an area of 14 hectares.
Pradera Golf Community (GC-1B/GC2): covers an area of 196,215 m2 accommodating 147 villas.
Golf Community 3 (GC3): covers an area of 262,694m2 accommodating 238 villas.
Golf Community 4 (GC4): covers an area of 244,570m2 accommodating 226 single-family villas.
Golf Communities (GC5): covers an area of 295,380m2 accommodating 260 single-family villas.
Golf Communities (GC6 & GC7): GC6 covers an area of 200,362 m2 accommodating 168 single- family villas, while GC7 covers an area of 203,013 m2 accommodating 175 single-family villas.
Town Houses Community 1 & 4 (TH1 & TH4): two adjacent townhouse communities that include 523 units, extending over a total land area of approximately 34 hectares.
Town Houses Community 2 (TH2): townhouse community including 148 units, extending over a total land area of approximately 70,000 m2 .
Town Houses Community 3 (TH3): townhouse community including 234 units, extending over a total land area of approximately 176,000 m2 .
The project also encompasses the infrastructure works (irrigation, drainage, mechanical systems and overall lighting) as well as the construction management and supervision for an 18-hole golf course and lakes existing in between. The golf course is centralized amongst the golf communities GC1, GC2 (Pradera), GC3, GC4 and GC5 on a total area of approximately
677,000 m2 .
Furthermore, the scope covers evaluation of the existing utilities, a network of primary roads (over 9 km long) in addition to primary infrastructure with all related tanks and pump stations serving the town center and AlMurooj communities.
see projects related

Dhahiat Sumou Block 5 (Phase 1)
On a land area of 1.6 million m2, Dhahiat Sumou Project – Block 5 – Phase 1 is located within Bawabat Mecca development in Saudi Arabia.
Bawabat Mecca is a new 83 million m2 visionary city strategically located at the western entrance of the Holy Mecca Region.Dhahiat Sumou project is located at the western border of the city in the Shemaisi area along Jeddah-Mecca Expressway.
With a built-up area of 59,900 m2, Block 5 – Phase 1 comprises the development of (12) types of single-family units (villas, duplexes and townhouses) built on 123 plots as follows:
Villas: 6 types
Duplexes: 2 types
Townhouses: 4 types
see projects related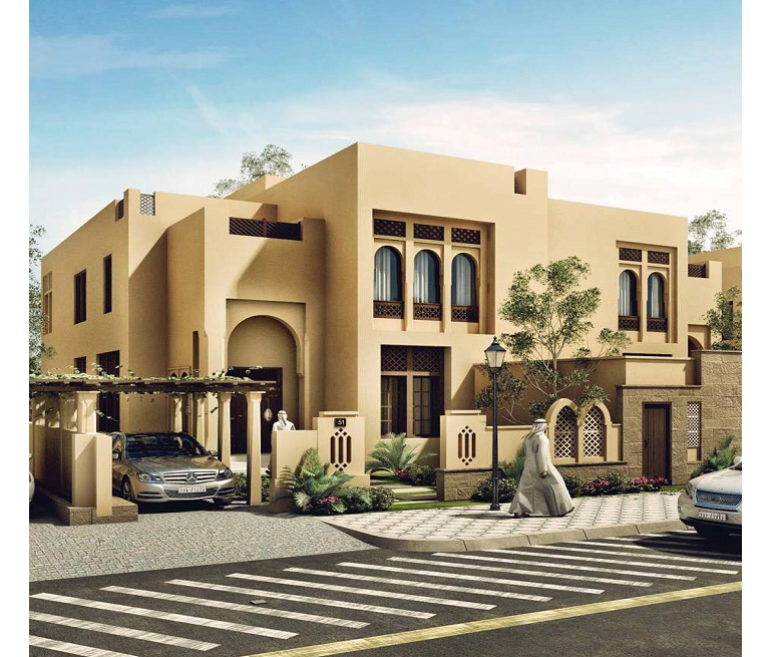 City Gate Retail Buildings (Zone 1)
With a total built-up area of 650,000 m2, City Gate retail project is one of the biggest retail developments in the MENA region. The project includes 16 residential buildings above retail area with a built-up area of 40,000 m2 offering over 300 residential units, and parking with a total built-up area of 380,000 m2. The retail development comprises department stores, F&B retail and outlets, hypermarket, power centre, parade of brands, entertainment block and indoor mall.
The Town Centre retail destination is the core essence of the master plan, made up of contemporary buildings and landscape featuring a variety of uses. A mix of outdoor entertainment, shops, cinema and dining lends itself as a true destination. The exciting outdoor pedestrian friendly High-Street environment, over 500 m long, connects the Town Centre's many open-air dining terraces, shaded plazas and courtyards. It is to become the new place to be seen and to gather and meet friends; the central stage of an ever changing series of events and activities.
The architecture of Town Centre is a thoughtful integration of buildings, landscape, materials and features. The spaces between the buildings are carefully choreographed for pedestrians to create quality experiential design for the varied open spaces. The architecture design language is inspired by the intricate layers of Cairo building elements and its history, in forms of spatial juxtaposition as layers of volumes and spaces. Buildings comprise patterned facades, shaded arcades, decorative screens and stepped massing.
Building volumes and facades create an ever-changing dynamic spatial experience, and are complemented by the gentle curves of the surrounding streets. The sloping topography of the site, adds another dimension to the
built form with stepped storefronts, two-storey shops and multiple ground floor retail opportunities. The blending of these elements, yields a contemporary building language with the local building context. Natural colors and rich textures are used throughout each building; and carefully
composed arcades, canopies and shade devices offset the region's climate conditions.
City GateTown Centre is designed and organized into multiple shopping districts which include: High-Street, the Parade of Brands, Entertainment Zone, Power Centre, and Indoor Shopping Centre – This grouping of various
store formats, provides a top shopping destination feature that istinguishes the Town Centre as the region's new destination for shopping, food, entertainment, and living.
The organizing element and central spine through the Town Centre is the High-Street; a boulevard inspired by the urban model of European cities and villages; incorporating streets, pedestrian walkways, access for cars, shopping arcades and central plazas. It provides access to various types of shops along a beautiful network of landscape, water, recreational and pedestrian ways. Anchoring the High-Street to the South is the entertainment block, and to the North the retail hotel. The strong axial street is lined with double height retail spaces with residential above.
With High-Street as its main focus, the retail tenants of the parade of brands occupy the ground level and central spine of the street. Double height volume stores with optional mezzanine levels form High-Street Parade of Brands. Tenants cater to the shopper seeking luxury brand
name goods and services. Direct connection to the block is provided from parking below and valet service. Above the retail are the residences of City Gate Town Centre; modern living apartments surrounding a grand garden
podium. Residents have convenient access to High-Street within a comfortable secure atmosphere.
This multi-level entertainment zone accommodates a variety of restaurants and entertainment choices. The principal anchors include the multi-plex cinema, IMAX theater, atrium dining court, theme restaurants and
family entertainment centre. An open air dining terrace and atrium organize the many entertainment uses; with strategic views to High Street and luxury Resort Hotel. A feature bridge from the dining area connects pedestrians to the interior of the Shopping Centre. Lobby access
from street levels provides direct vertical circulation from underground parking to the ground and upper level uses.
Adjacent to the High-Street is the Town Centre's principle indoor shopping and environment. A multi-level retail centre accommodates international brands, flagship hypermarket, large format anchors and a wide variety of
shops and restaurants. The retail districts include fashion, lifestyle, houseware, and electronics. At primary nodes and pedestrian crossings of the centre are dramatic courts which include the media square, civic plaza and crystal court. Each themed and strategically branded to reflect the surrounding retailers. The indoor shopping and entertainment is designed to enliven the retail visitor experience with a rich architectural language
and amenities to complement the high street district.
Anchoring the eastern edge of the Town Centre is the power centre. The district consists of large format anchors of home improvement, electronics and discounted brands. It is served by adjacent surface parking directly in front of tenants and provides a ceremonial drive and visitor drop off on axis with the retail centre. Between the power centre tenants lies the Oasis court, the principle outdoor gathering plaza available for large scale events, dining and social interaction.
see projects related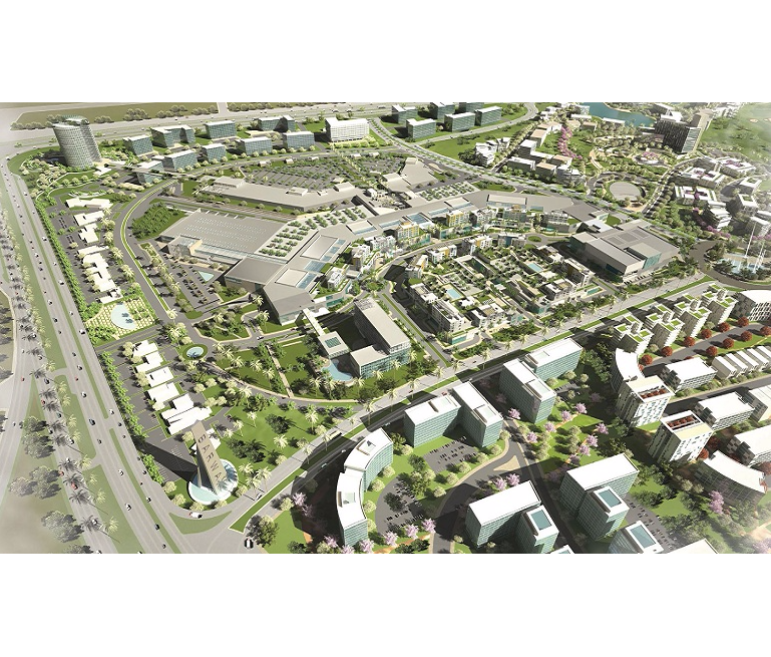 Anantara Doha Island Resort
On a plot area of 165,361 m2, the banana-shaped island is located approximately 3 km from the new Doha International Airport. The luxurious, Asian-themed resort encompasses 141 keys. The project has an exclusive, fully equipped and manned marina with the capacity of 33 berths for luxury and mid-range super yachts in addition to artificial reefs and a golf course. The resort comprises different types of onshore and offshore villas
with associated services as follows:
Over water villas: anchored alongside an eye-shaped pier that extends from the shoreline and into the ocean with an integrated private pool for each villa, of 2 types:
2-bedroom villas: 8 units (230 m2 each).
3-bedroom VIP villas: 3 units (270 m2 each) with private yacht berthing facilities connected directly to the villa pier.
Land villas: located on the eastern side of the island comprising a private pool each, of 3 types:
Single-bedroom Majlis: 16 units (112 m2 each).
2-bedroom Majlis: 6 units (148 m2 each).
King chalets: 12 units (119 m2 each).
Family suites: Victorian style townhouses located in the centre of the resort, of 2 types:
Garden family suites: 24 rooms located on the ground floor overlooking the front yard, and opening onto a sand bottomed pool.
Loft family suites: 48 suites located on the first and second floors. Each unit has a private balcony with a lagoon overlooking thick vegetation.
Hotel suites: scattered across the eastern beach side with a total of 24 keys, each of these rooms have a planted courtyard and ample privacy for guests. The rooms are intended for family accommodation and boasts with modern amenities.
Spa: 6 treatment rooms, 2 steam room units, sauna and whirlpool.
Restaurants: 4 exquisite restaurants to satisfy different tastes, encompassing:
An iconic lookout restaurant.
An all-day dining restaurant located in the wellness centre.
A dive in centre area café.
A beach club Seafood Restaurant.
Pools: 6 different pools spread over the island:
Wading pool: located at the northern head of the island outside the all-day dining restaurant next to the main lobby. Overlooking Doha metropolitan cityscape.
Kids tide pool: located at the north western end of the entertainment area with a Shark Encounter in the front. The pool is designed to allow water flow, creating tides that resemble lagoon motion.
Surf pool: is located in the midst of the teenage activities club area. It is designed to generate variety of waves just like a natural surf area.
Lagoon swimming pool: with sand infill at the bottom.
Beach club pool: designed to be a quiet place to sit back and relax. It is surrounded by lush greenery and is annexed to the Beach Club and the Seafood Specialty Restaurant.
Diving pool: located near the diving school.
Wellness health centre: located in the heart of the Island on a plot area of 4,018 m2 comprising an indoor climate controlled park over 1 km of tropical plants and foliage, a fitness centre, gardens, a waterfall, an oxygen bar and
see projects related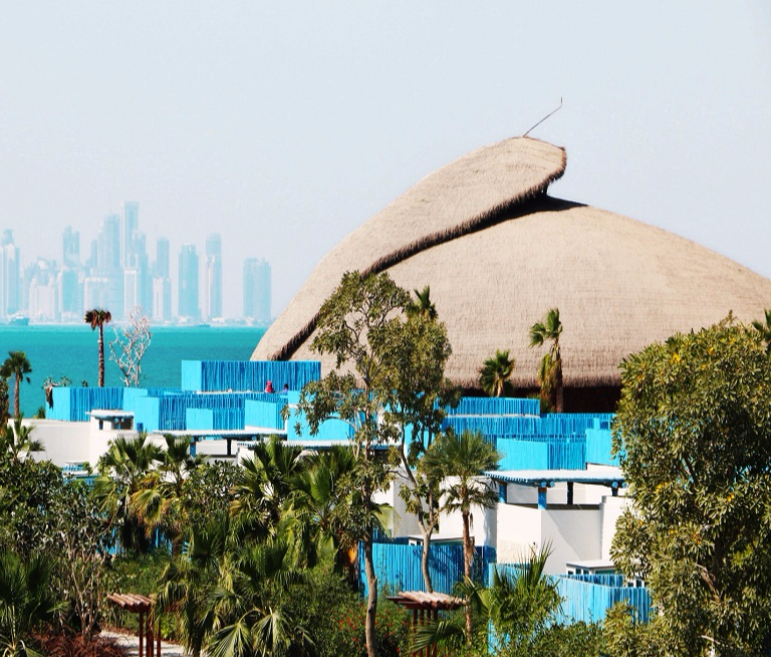 Quesna International Airport
ECG, as the Arab Contractor's consultant, provided full technical support to Quesna International Airport EPC project. The project comprises the construction of a new terminal building at Quesna International Airport. It will act as a starting point for passengers travel and Air Cargo throughout the Delta region. The terminal structure is a combination of concrete columns, mezzanine slabs and steel roofing for hall areas.
With one arrival and one departure halls, the terminal building was designed to accommodate the peak, with passengers' capacity estimated 200 pass/hour. The hall is composed of two levels; ground floor and first floor. The ground floor, with an area of 3,500 m2 encompasses all arrival and departure procedures facilities comprising passport control, luggage reclaim hall, check-in, security check and customs check. Related services include toilets, offices and an external commercial area. The first floor, with an area estimated at 750 m2, contain offices, airport administration and a VIP lounge with all related services including toilets, kitchen, storages and separate path.

see projects related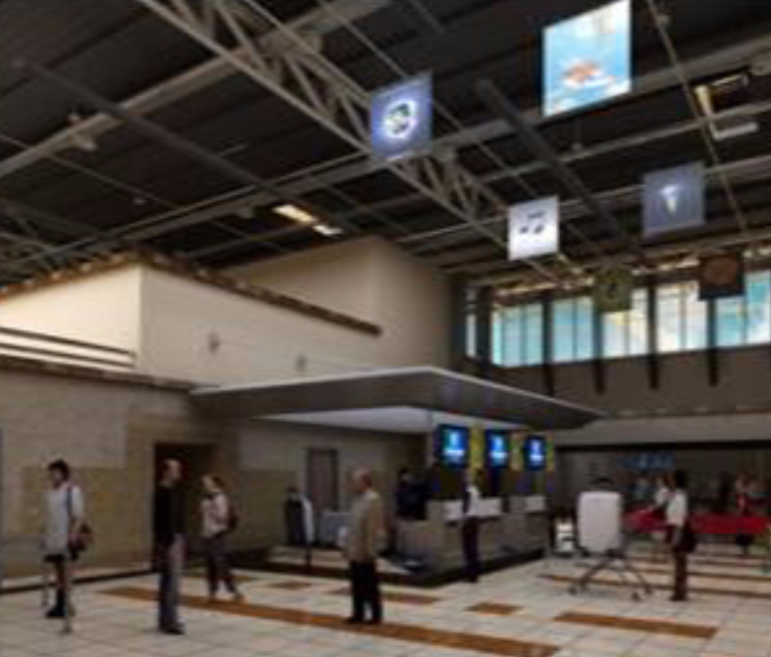 EMAL Administrative Offices and Facilities
Emirates Aluminum Company (EMAL) has Aluminum Smelter and associated facilities at Al Taweelah, 300 km North East of Abu Dhabi. EMAL planned to develop and construct contemporary administration offices and support facilities to efficiently serve the smelter.
The complex comprises 12 buildings:
Reception Building: ground and first floors comprising check in/out points, security office, electrical room, stores, toilets and pantry.
Administration Building: ground and first floors comprising reception and waiting area, meeting rooms, offices and toilets.
EMAL Central Hall: auditorium, reception hall, stores, toilets and entrances.
Plant Training Facility: ground and first floors comprising classrooms, training halls, offices, meeting room, filing room, library, changing rooms, toilets, lockers, storage, electrical room, compressor room and pantry.
District Cooling Plant: ground floor only including offices, control room, toilets, store, electrical substation and LV switchgear room.
Indoor Recreation Center: ground and first floors comprising instructors' rooms, changing rooms, shower cabinets, toilets, lockers, separate men & ladies gym halls, store, hub room, sports hall, electrical room and janitor's closet.
Outdoor Recreation Service Block: ground floor comprising changing rooms, showers, lockers, toilets and storage area.
Mobile Equipment Training Center: ground floor comprising communication room, simulator training room, classrooms, offices, toilets, lockers, prayer room and pantry.
Emergency Response Center
Kitchen and Cafeteria
Mosque: entrance lobby, main prayer hall, ladies prayer hall, secondary prayer hall, minaret and toilets.
Excellence Center: not included in ECG scope.
see projects related